Well if you have not figured out by now we are a pretty animal loving family. My mail man is the worst. One time a wild bird passed away in our yard he buried it in the rain.
So when this cat showed up in our yard he payed close attention to him. We have NEVER taken in a stray and I refuse to. Strays are usually born outside. We also live right on the line of the state park so we have deer, coyotes, turtles, rabbits, raccoons and rabies. Any wildlife area you are going to have rabies. So anyway I do not let strays near my house.
Well this stupid cat would not leave for like a week. Finally Wednesday night he got into mail mans chevy and went right to sleep. We got a good look at him and clearly he was just a lost house kitty. We brought him to our local animal hospital were he checked out healthy, happy and neutered! Which means he is probably up to date on shots because in Mass it is the law you need to have shots in order to have the surgery.
With that said I filled out the Good Samaritan paper work and was about to walk out the door, when BAM um no Mam we do not keep strays. Um excuse me? What? Yes you have to take him back! Here we gave you a cage, food and a cat box to get you threw a few days till you find his Mom. UM no I have a Cat, Dog and two pigs (that are guineas) I can not let some strange cat into my house. Ok Mam let him go in your yard and ignore him. Are you kidding me!?
So needless to say my heart felt MIL and Mail Man both agreed the street is not a place for this beautiful fixed boy and neither is a shelter because here in Mass the shelters, if you can even get them to take on a cat, are so over crowded he would live there forever.
I posted him on Craigslist, PetFinder and our local paper is next, and not one person has claimed this boy. We do think he was abused. He is malnourished very badly and his hair was all knotted.
So after spending my Friday night shaving this cat and all night last night sleeping with the cat I have too grown to love him BUT I am still sending him away soon.
So this is how I am spending my weekend! If anyone in the Boston area wants a fixed UTD (we are taking him to the vet for free on Thursday) very loving cuddly cat send me a email. Except right now he is very pathetic looking all shaved.
Oh and we named him Dumbledore. He has a crooked ear and big white beard.
Pretty Fluffy boy.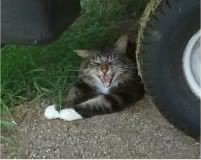 Poor Shaved Dumbledore
Much Thoughts For All Denise <3