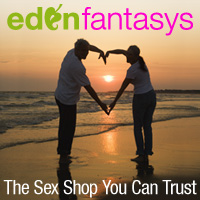 Okay ladies and gents, it may be a more taboo topic but it's something we've all thought about. Sex. I'd like to tell you about
EdenFantasys,
and if sex is something you do not want to talk about, learn about or hear about, skip this post.
So as you all know I am married to the mail man. We have two beautiful children and you can't have children with out (here comes the word....) Sex...
I am not quiet about my sex life at all! The way I look at it actually, is that every married adult has it. Every adult should ENJOY it.
There came a time, ok a few times, that I was unable to have sex with the mail man. Not by choice but because we were traveling, sick, tired (him) or just not together. You get the urge at random times!
So when it comes to those times I reach for my favorite "toys." Every Mama should have at least one toy they enjoy. It took me about 25 years to open to this idea but since I have
EdenFantasys
is my go to place!
They have all sorts of
toys,
,
lingerie (even in plus size!)
,
lubricants
,
DVD's
,
steel toys
,
glass toys
everything!
I have a very big toy collection, so lately I have been trying to fill up my dress up box. I am a large girl there is no denying it so when I am looking for something cute for the mail man I run to their plus size section. The thing I love about their site is it is so easy to navigate and I can click on my size and find all of the selections in one place without having to click on it all and getting disappointed when there isn't my size!
Mail man has been very pleased with my buys! The more I look at the site the more I want to get! There is loads of
couple things,
so I can not wait to dive into those and be less selfish about just buying things for me.
So no matter what you are looking for, personal, couple, same sex or a nice gag gift with party favors they are worth the look!
Much Thoughts For All Denise <3