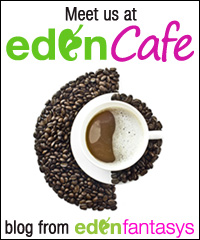 I heard that when you get married your sex life goes downhill drastically. I didn't want to believe this because Kieren and I had such a great sex life we were like rabbits doing it all the time. Now we tend to find ourselves in the same routine when it comes to sex. It's get it done, and just a chore sometimes.
I love Edanfantasys I think they're great. They offer couples some wonderful choices. And right now they are having a huge sale up to 60% off a summer clearance.
I said this before and I have no shame in it, I love sex toys. I have also said that I want to add to my "sexy clothes closet." But right now I am running to
Edenfantasys.com
to buy some
lubrication
. You can't even go to your local drugstore and get
lubrication
at the sale price right now. This really excites me because I have learned and I've also done research on this, that no matter the situation you should always use
lubrication
. The inside of your vagina is actually really sensitive and can get damaged if you don't have enough moisture down there.
The great thing about
Edenfantasys.com
is the fact that you get to do the shopping from your own home. So you're not going into one of those creepy adult shops you are doing it at your personal laptop or computer whichever you use. So no matter how big the phallus is you order, or how small the lingerie you order, you can do it all from the privacy of your own home. They also ship in a nice discreet box, so you're not getting a box that says dildos in here!
So if you haven't checked out
edenfantasys.com
I suggest you go there now. Like I said there is a huge sale going on lubrications 40% off, you have toys at 60% off, basically everything is on sale and it is awesome. .
Much Thoughts For All Denise <3